If you think injections are the most terrifying part of going to the dentist, our dentis office has an amazing solution VibraJect. This small piece of equipment is clinically proven to eliminate the feeling of injections by using vibration to distract you.

VibraJect is a small, battery operated piece of equipment that clips on our existing injection syringes and vibrates when activated. The intensity of the vibration completely overrides the feeling of the injection, so you won?t feel the needle at all.

VibraJect is proven to work and is just one way our office is making your dental care more comfortable and pain free.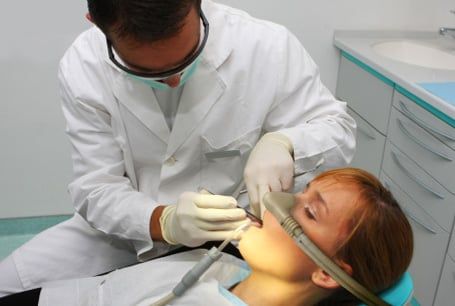 Nitrous oxide, also known as laughing gas, is most often used for patients who are mildly or moderately anxious or nervous. It eases their fears so that they can relax and receive treatment comfortably and safely. Nitrous oxide is administered by placing a small mask over the patient's nose. As the gas begins to work, the patient becomes calm, but is still awake and can communicate. When the gas is turned off, the effects of sedation wear off almost immediately.
Dental Anesthesia for Children
Dr. Ubieta treats pediatric patients in Miami Beach. Dr. Ubieta often treats patients who present special challenges related to their age, behavior, medical conditions, or any other special needs. To address these challenges effectively in order to provide "predictable" treatment, your pediatric dentist may recommend treating your child under General Anesthesia.
Dr. Ubieta, by virtue of training and experience, is qualified to recognize the indications for such an approach and to render such care. Dr. Ubieta will discuss all the necessary steps that must be taken in order to promptly and safely complete your child's dental treatment after this treatment option has been chosen.
A Beautiful Smile Is Waiting For You
Our office provides smile makeovers to achieve the beautiful, natural look you seek. We can reshape your natural teeth to make them straighter or more youthful in appeal. Our offices is easily accessible and makes it convenient to those living near Miami Beach to get the care they deserve.
Make an Appointment
Call Us Today
305.531.0063