There are many types of dentures available depending on your unique situation. Partial Dentures are used when you need to replace a single teeth on an upper or lower arch. Full Arch Dentures will replace an entire upper or lower arch with a new set of teeth. Implant-Supported Dentures are the best way to permanently replace an entire upper or lower arch of teeth.
Click on a denture option below to learn more...
Removable partial dentures are composed of a metal framework with plastic teeth and gum areas. The framework includes metal clasps or other attachments, which hold the denture in place. Partial dentures are removed easily for cleaning.
At times, it is necessary for all teeth to be removed due to extensive periodontal disease and/or due to decay. An alternative for the replacement of all the teeth is a complete upper and/or lower denture.
Implants allow you to wear full dentures and partial dentures without fear that they will slip or fall out. Dental implants also replace the original tooth roots thus minimizing bone resorption.
European Denture Technique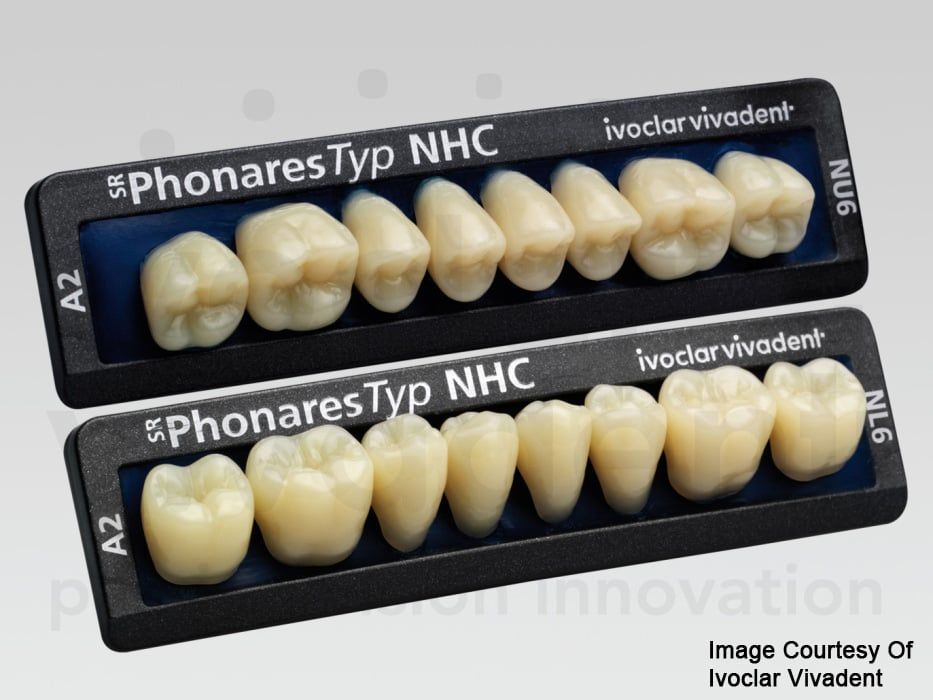 One of the most common complaints from denture wearers is that their dentures look like "false teeth," causing them to be self-conscious and smile less. This complaint is usually accompanied by shortcomings in the ability to chew and overall discomfort they experience.

With the custom fit and design of Ivoclar dentures, wearers experience a more "natural look" and benefit from the unique Ivoclar design for better chewing. Ivoclar dentures appear more natural because they are designed and handcrafted especially to complement your personality, age, sex and physical appearance.

Dr. Ubieta and his staff take special measurements that allow them to duplicate natural characteristics of your teeth in their own lab, using the Ivoclar precision denture technique. The denture teeth are manufactured layer by layer to respond to light just like natural tooth enamel, giving you the most natural appearance possible.

"Nobody should know that you're wearing dentures," says Dr. Ubieta, "I strive to make a denture so comfortable that even the wearer forgets it's a denture."

Ivoclar dentures offer more than just an attractive denture that will enhance your appearance. These dentures are also designed to provide better chewing and biting than normal dentures because of the unique occlusal design of the lower teeth, providing unusual cutting and chewing features that allow better functioning for patients. Every Ivoclar wearer enjoys high-quality dentures that provide stability, optimal chewing efficiency and comfort.

Ideally, dentures should be replaced every five years. If you already have dentures, it may be time to discover what we can do for your smile.

We are constantly improving our dentures to increase patient confidence, comfort and satisfaction. Our dentures can improve your life, in terms of both appearance and function. Like so many of our patients you'll only wish you would've gotten them sooner!
Within 6 months of starting to wear a denture, you will have already lost about 40% of your jaw bone structure.
If you have worn a denture for a few years, you already know about bone loss. The reason your denture doesn't fit like a year ago, is that you don't have the same jaw bone structure to support it.
If you wear a partial denture, beware that you will have the same problem with bone loss.
Once the jaw bone structure is lost your options become limited. A dental implant is the logical choice to help stop bone loss, however, once the jaw bone structure is lost, your options become limited.
It is sometimes difficult to get used to your newly placed dentures. They can feel bulky, loose and awkward. In order to make your adjustment period smoother, here are a few guidelines to follow:

- Wear your dentures all the time after you first receive them.
- Never use adhesives on your dentures unless instructed to by your doctor.
- When you go to sleep, remember to always remove your dentures.
- Always brush your dentures after removal and store them in a bowl of water. You can soak your dentures in a denture cleaner as well, but only after you have brushed them.
- If you experience any sore spots, looseness or discomfort please let your doctor know so they can help.

Never try to adjust your dentures on your own, each individual will have a different adjustment period and it will take time for you to become comfortable with your new teeth.
A Beautiful Smile Is Waiting For You
Our office provides smile makeovers to achieve the beautiful, natural look you seek. We can reshape your natural teeth to make them straighter or more youthful in appeal. Our offices is easily accessible and makes it convenient to those living near Miami Beach to get the care they deserve.
Make an Appointment
Call Us Today
305.531.0063