Invisalign® to the Rescue
Invisalign® corrects many orthodontic issues without the hassles of traditional braces. This means no unattractive metal wire, no uncomfortable glued-on brackets and no annoying rubber bands that can leave your mouth sore. Invisalign® uses a series of clear and custom-fit removable aligners; we are able to straighten your teeth in no time. In most cases, Invisalign® treatment takes about a year.

Did we mention Invisalign® is removable?
Because the aligners used in the Invisalign® treatment process are removable, you can eat the foods you love to eat (steak, corn and bubble-gum don't mix well with traditional braces). Additionally, when you need to brush and floss, you don't have to buy special tooth brushes and flossers designed to fit between the wires and brackets of braces. The full course of treatment involves changing the Invisalign® aligners approximately every two weeks, moving your teeth into straighter position step-by-step, until you have a more beautiful smile.
Not All Teeth Can Be Perfect
Having crooked, crowded or gapped teeth can be embarrassing, sometimes painful and often uncomfortable. Generally speaking, when you speak to a dentist, he or she may recommend treating your orthodontic problem with years of uncomfortable and unattractive metal braces. This is the biggest distraction for patients to fix their teeth and enjoy a perfectly aligned smile but here at Sunset Family & Cosmetic Dentistry, PLLC, we want you to know there is a modern way to straighten teeth and even correct misaligned bites without the use of traditional braces. We use Invisalign®!

If you have gapped teeth, an overbite, underbite, open bite, crossbite or overly crowded teeth, Invisalign® may work for you! Call us at 305.531.0063 or request an appointment online to come into the Miami Beach dental office of Sunset Family & Cosmetic Dentistry, PLLC. We would love to be able to discuss an Invisalign® plan specific to you and get you well on your way to a beautiful straight smile!
What do aligners look like?
Aligners are clear and nearly invisible. If you've ever seen clear teeth-whitening trays, that should give you a good idea of what the aligners look like. Invisalign® aligners are custom-made to fit and move your teeth.
Will the treatment be painful?
Each time you change to a new aligner, there may be some temporary discomfort while your teeth adjust to their new position. This is completely normal, and is a good sign that the treatment is working.
Will wearing Invisalign® aligners affect my speech?
Some people are affected more than others, but most adjust in a short period of time to the feeling of the aligners and do not have permanent changes in their speech.
How often will I have to wear my aligners?
Invisalign® only works while you're wearing the aligners. It's recommended that you wear your aligners full-time, day and night, except to eat, brush, and floss your teeth.
What happens after treatment to prevent my teeth from moving again?
This varies person to person and depends on the outcome of the treatment. Some patients might need a positioner, or conventional retainer. Other patients might need a clear plastic retainer.
How Affordable is Invisalign®?
The total cost of Invisalign treatment is similar to that of traditional braces. Many dental insurance plans cover Invisalign treatment just as they would with regular metal braces. Every unique case has many different factors that can all affect total treatment cost so it's extremely difficult to put a price tag on custom treatment plans.
Sunset Family & Cosmetic Dentistry, PLLC can do all the leg-work for you and will check with your dental insurance provider to see just how much they will cover.
Call our office at 305.531.0063 or request an appointment and come in to be evaluated. Only then will we be able to quote an Invisalign treatment plan, work with your insurance and talk about available payment options. We will make sure there is no guessing and you know how much your specific treatment will be. Most patients are amazed at just how affordable and easy it is to obtain a straighter smile!
Many developments in today's orthodontic treatment have been focused on helping adult patients. If your teeth are crooked, orthodontic treatment at any age may be just what you need to give you a smile you can wear with confidence. Recent improvements in traditional braces have resulted in smaller, stronger, more efficient and less conspicuous brackets. Conventional braces with metal brackets are the most familiar; however, clear and tooth-colored ceramic and plastic brackets are now available.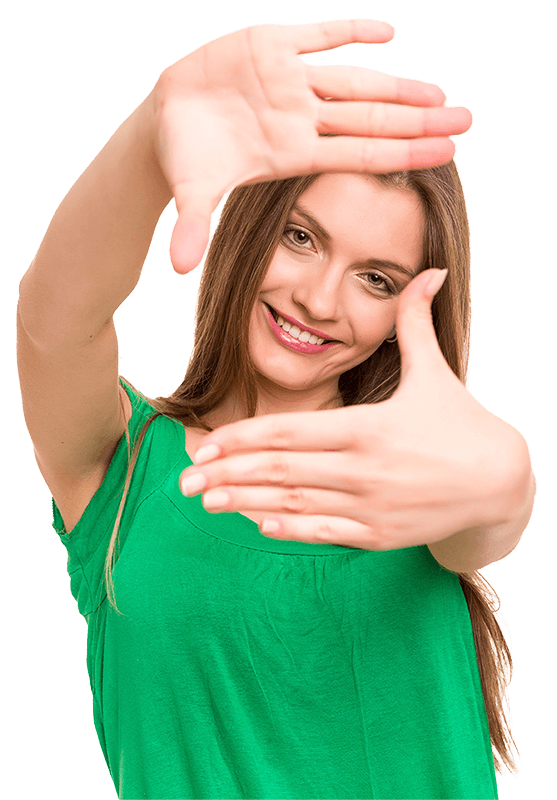 Are you one of the millions of adults who are unhappy, self-conscious or even embarrassed of your smile?

Many adults spend their entire lives covering their mouths when they laugh, smile or talk. They feel stuck because they do not want to wear metal braces for years or they are concerned that other corrective procedures could be too invasive or too expensive. Now, there is an effective, safe and affordable cosmetic solution that fits your lifestyle.

A revolutionary combination of proven orthodontic techniques, modern materials, and innovative thought that utilize special clear braces to gently straighten and align teeth.
A palatal expander is an appliance placed in the roof of the mouth to widen the upper dental arch, which allows the arch to be painlessly separated and spread. A treatment used for younger patients. Many times a palatal expander can be used to create a proper alignment of the arches so permanent teeth have room to erupt in a natural position. Often, the use of an arch expander early may eliminate the need for braces later.
Class III - A malocclusion where the lower teeth stick out past the upper teeth called an "under bite".
Anterior cross bites occur when the upper front teeth are inside of the lower front teeth. Over time, the lower jaw grows into a forward position abnormally, thus inhibiting the growth of the maxilla (roof of the mouth or upper jaw). Once the source of the interference causing the cross bite is eliminated, the appliance guides the maxilla back into position. The front of the appliance is moved outward through the tension of an expansion screw at the base of the unit while the back teeth are used for anchorage.
When closing a diastema (gap between teeth), differing amounts of movement of the two teeth is often needed. In this appliance, coil springs are placed to the side of each tooth. An arch wire acts as a guide and keeps the teeth from tipping as the space is closed.
This is a typical case of crowding. A palatal expander was used to create sufficient space in the mouth for the permanent teeth to fit properly. Braces were worn for approximately 15 months and retainers for another 3 years.
Anterior open bite refer to a condition in which the top and bottom front teeth are not in contact (they do not touch each other when the patient bites). The origins of open bites can be traced to habits that patients have or had in the past and occasionally to discrepancies between the sizes of the jaws. Since most open bites in children are associated to an existing habit, treatment usually addresses the habit itself and is most effective when done at an early age. Many appliances are available for treating this condition, and your dentist will discuss in detail the risks and benefits of treating an open bite in children.
A space maintainer is a removable or fixed appliance designed to maintain an existing space. They are usually fitted to children when they have lost baby teeth early. The gap left from losing this tooth needs to be held open for the permanent tooth to erupt in its correct position.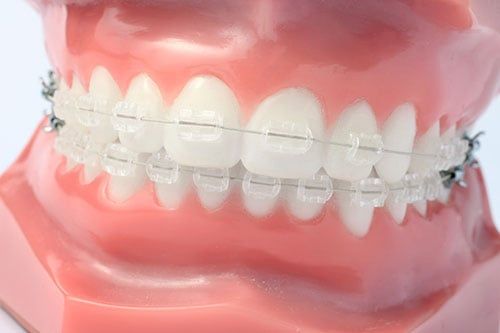 Translucent "clear" braces and tooth-colored ceramic brackets provide a very aesthetic alternative to traditional metal braces.
Today's clear braces provide the same quality of treatment as metal braces but are simply less noticeable.
Braces are bonded brackets, archwires and elastic bands that move crowded or spaced teeth into the proper position for appearance and function.
Over a period of time, teeth will shift if constant, gentle pressure is applied. Brackets are bonded to the front surface of each tooth and wires are attached to the brackets with elastic bands. The slight tension on the wire is gently transferred to the bracket through the elastic band.
Today's orthodontic treatment is faster, comfortable and more fashionable than ever for children, teens and adults.
A gadget that the orthodontist gives you to wear after your braces are removed. The retainer attaches to your upper and/or lower teeth and holds them in the correct position. You wear the retainer 24 hours a day at first then at night to make sure that none of your teeth move while your jaw hardens and your teeth get strongly attached to your jaw.
This appliance is implemented when one molar (an erupting six-year molar) is caught under the edge of a second primary molar. The appliance features a wire spring which is attached to the erupting molar and to the second molar. The spring provides the necessary tension to gently move the erupting molar into proper position
Twin Block (overbite treatment)
Overbite treatment with the Twin Block, a removable functional appliance consisting of two bite blocks (twin blocks), upper and lower, that are designed to interlock at 70 degrees in such a manner that the mandible (lower jaw) is held in a more protrusive position. Over time, the repositioning of the lower jaw forward eliminates the overbite (horizontal projection of upper teeth beyond the lower teeth). When treatment with the Twin Block is complete, teeth in the upper and lower jaws will interact normally.
A Beautiful Smile Is Waiting For You
Our office provides smile makeovers to achieve the beautiful, natural look you seek. We can reshape your natural teeth to make them straighter or more youthful in appeal. Our offices is easily accessible and makes it convenient to those living near Miami Beach to get the care they deserve.
Make an Appointment
Call Us Today
305.531.0063